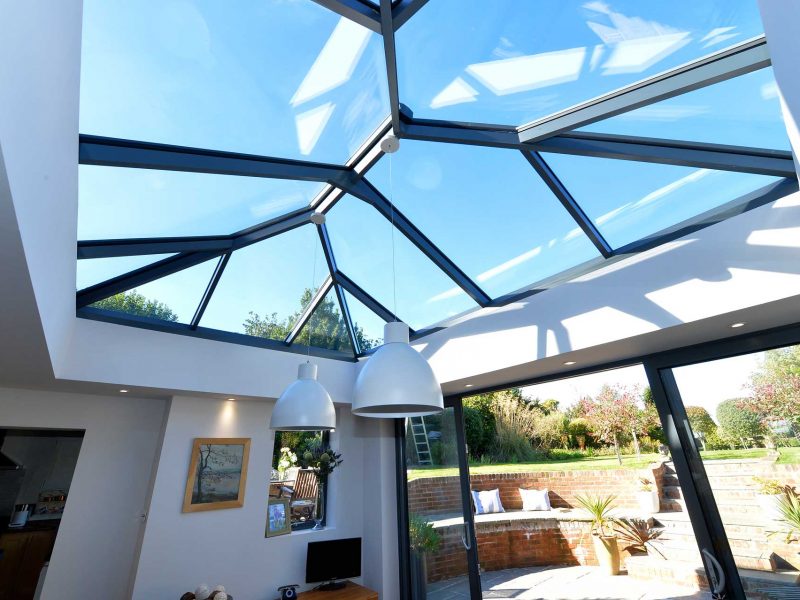 Roof
Lanterns
From our Showroom in Pinner, NW London, we supply and install bespoke roof lanterns and rooflights for every kind of project. We locally cover London and the south of England, including Hertfordshire, Surrey, Berkshire, Buckinghamshire, Kent and Essex.
Rooflights and Roof Lanterns
Bespoke Products
Both our roof lanterns and our flat skylights are made to measure. We believe in offering fully bespoke products, as we know every new build development is different. We can even offer stunning frameless effect rooflights as part of our bespoke service.
Full Design Service
Bring your visions to life with OpenSquare Glazing. We can produce full CAD drawings of the new properties, helping you to visualise what the development would look like with our bespoke roof lanterns. The transition from design to installed product will be totally seamless.
Expert Installation
We have an in-house team of installers. Not only are they professional fitters of our windows and doors, but our roof lanterns as well. Even the largest, most bespoke roof will be installed to an exemplary standard. We take all the hassle away with a personal customer care policy.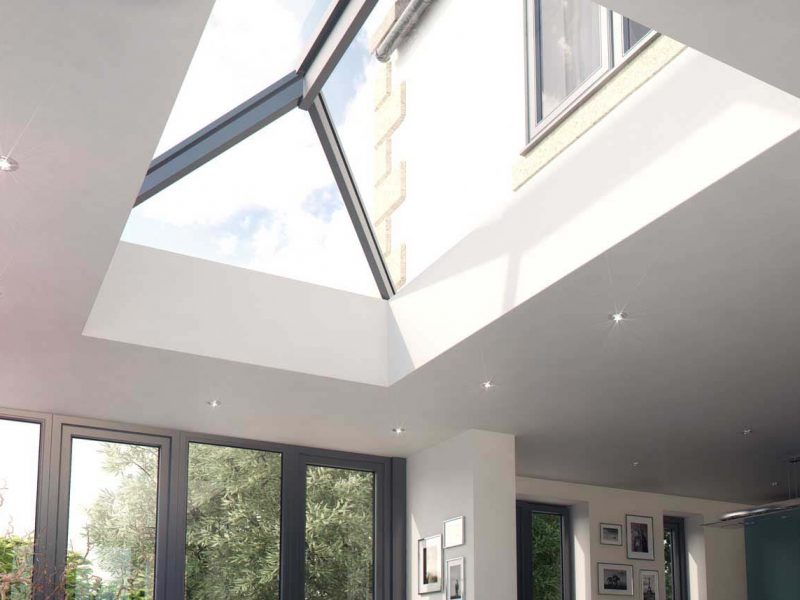 Competitively priced rooflights, perfectly designed, expertly installed.
Our Glass roof prices are offered on enquiry, as each quote is bespoke. Contact us with your enquiry sale@opensquareglazing.com and a member of our team will be happy to discuss the details of your project!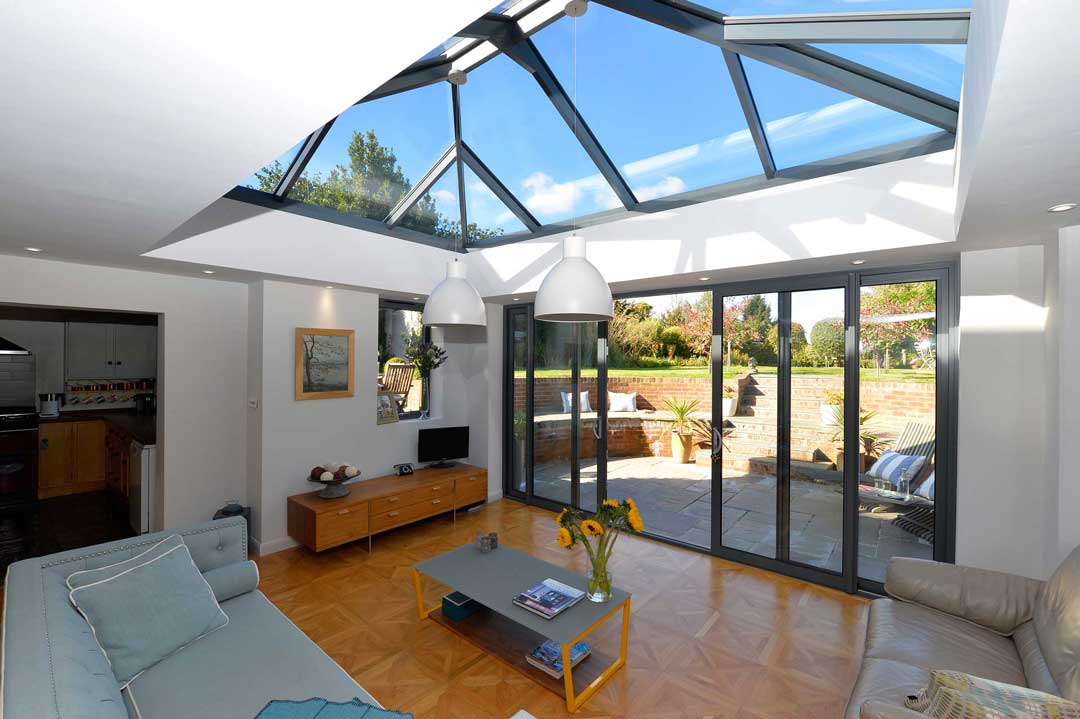 The OpenSquare Xenlite Roof Lanterns
Our Xenlite roof lanterns are crafted with the best double glazing and slimline aluminium. Hipped in design, they sit atop of a flat roof, allowing natural light and warmth to flow into any social space. You can fit these roof lanterns atop of kitchens, dining rooms and lounges as part of your new build development. They are versatile and high performance.
They comfortably exceed thermal regulations, thanks to a broken profile which helps to trap heat inside the room below. They can achieve U-values as low as 1.4 W/m2K. From your perspective, you can also specify our roof lanterns in a wide range of colours and dimensions. Whatever your vision for the new build development, these bespoke systems can accommodate.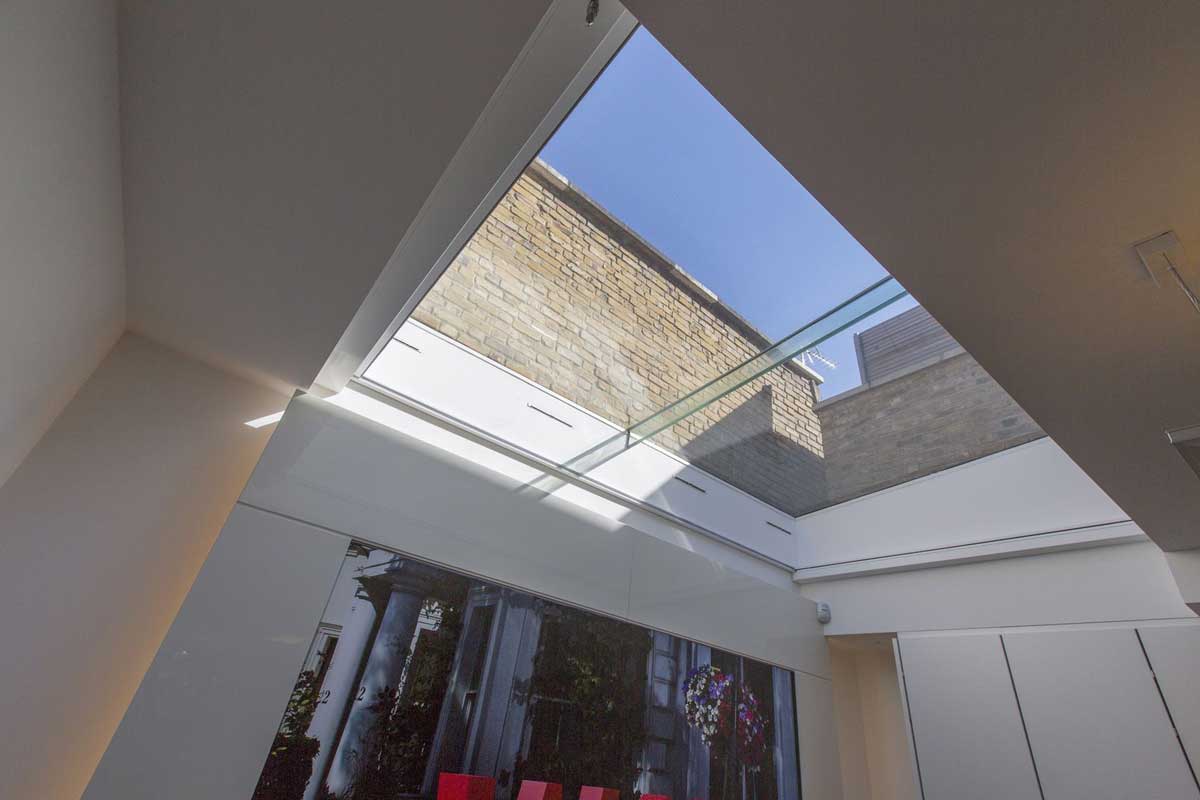 The OpenSquare Fixed & Bespoke Rooflights
At OpenSquare, we create our flat and structural rooflights ourselves, away from the " off the shelf" systems by others, allowing us to create beautiful rooflights to any size and shape, to cater for every project. Our own frameless system,  all glass effect for your renovation project, just get in touch. We can discuss your options and let you know which rooflight or roof lantern is best for your project.
Our rooflights offer subtle aesthetics. Smaller, flat and often square in design, they are perfect for adding both style and practicality to a room in your new build development. Natural light can filter in, creating a warm and welcoming environment. They are great for placement above kitchens, dining rooms and lounges, but also work superbly in areas such as hallways.
Typical Technical
Specifications
Frequently
Asked

Questions
We've collated a handful of our most frequently asked questions regarding our bespoke roof lanterns here. Take a look or contact us to ask your own question.
Which is better; roof lanterns or rooflights?
The two products offer unique benefits for the homeowner. Flat rooflights are much more understated and subtle and can be made with a frameless effect design. Comparatively the hipped design of a roof lantern will draw the eye. All the while, the latter will allow more natural light to filter into the property.
If ensuring the living space is as warm, welcoming and bright as possible, lanterns are for you. Regardless of what you think is best, we can advice so during our consultation.
Why choose OpenSquare Glazing for rooflights and lanterns?
We offer a bespoke product, fully designed inhouse, which is perfect for architects, developers and contractors looking for the perfect aesthetic for their project. Better yet, we are experienced working with this sector, making us the obvious choice for any project in Hertfordshire, Surrey, Essex, Kent, London or any of the other home counties. We take care of our clients with the intention of forging long lasting relationships, meaning you're in good hands.
What is the process of having rooflight or lanterns installed?
Once you submit an enquiry via our contact form, we'll be in touch to determine the specifics of your project. From there, a full specify and design process will occur, with CAD drawings available.
Once you're happy with the proposed designs, we'll supply in the relevant components for your roof lanterns and rooflights, as well as any other aluminium windows or doors you've gone ahead with. From there, we'll organise a time to install that works with the progression of the new build development.